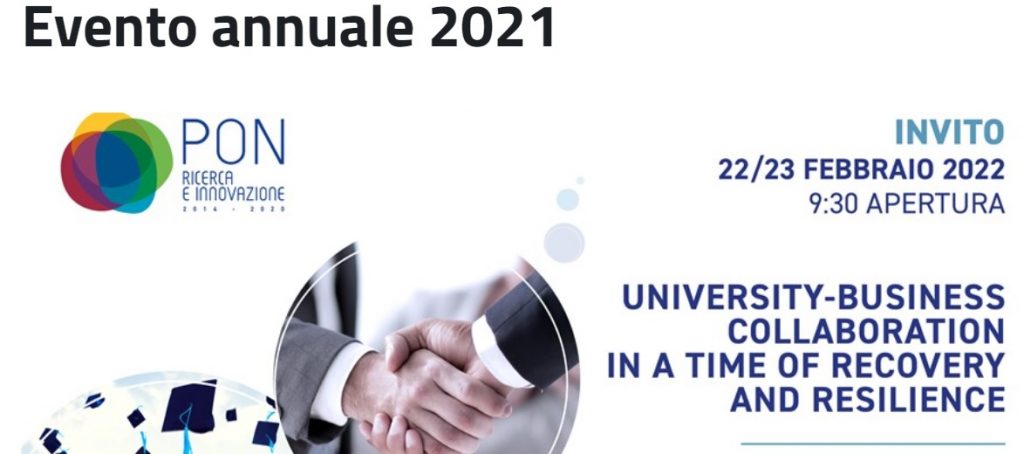 Net4Science e UMG intervengono all'evento annuale del PON Ricerca e Innovazione 22-23 febbraio 2022
Il gruppo di lavoro ministeriale del PON Ricerca e Innovazione organizza on line il suo evento annuale che quest'anno si tiene in collaborazione con Commissione Europea e all'University Business Forum. Il titolo dell'iniziativa "University-Business collaboration in a time of recovery and resilience " richiama evidentemente le misure connesse al PNRR e focalizza su progetti PON e iniziative di successo derivanti da sinergie universitarie ed imprenditoriali.
Nei due giorni dell'evento che si terranno on line il 22 e 23 febbraio 2022, una sessione plenaria sarà dedicata a storie di successo in cui le esperienze dottorali PON porteranno le loro testimonianze.
Alla sessione plenaria mattutina del primo giorno interverrà anche il Ministro dell'Università Maria Cristina Messa e a seguire vi saranno interventi di gruppi nazionali ed esteri. Nel pomeriggio della prima giornata si terranno sei workshop paralleli su tematiche molto attuali che spaziano dalla ricerca al business, al supporto didattico, alla transizione green e digitale, al ruolo della formazione universitaria nelle strategie di specializzazione intelligenti e nello sviluppo regionale, fino all'innovazione nel settore agroindustriale.
Nella seconda giornata sono previsti interventi relativi a collaborazioni scientifiche nell'area del Mediterraneo e quindi la sessione dedicata alla "sostenibilità in azione", dove l'Università Magna Græcia di Catanzaro e lo spinoff universitario Net4Science porteranno la loro esperienza sul tema di trasferimento tecnologico che ha anche coinvolto risorse PON Ricerca e Innovazione.
Clicca QUI per informazioni e per la registrazione alle sessioni del 22 e 23 febbraio.