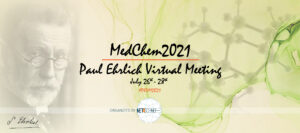 Net4Science Organizing Committee
is pleased to invite you to the Paul Ehrlich (PE) Euro-PhD Network virtual meeting
#PEVM2021
In the last year, COVID-19 pandemic has revolutionized traditional perceptions of "community" and "citizenship", the way we live cities, our workplaces and relationships. These concepts have taken on different meanings from their original semantics and the whole of humanity has reinvented itself in a stimulating virtual dimension that has allowed the continuity of exchanges. For sure pandemic reinforced our desire to find ourselves in the name of Science and PEVM2021 is a paradigm of this desire.
The event will be held virtually on July 26th-28th, 2021.
Continuing the tradition of the previous meetings, the Organizing Committee will promote the consolidation of international contacts and exchange experiences among a large Medicinal Chemistry PE community, including 58 European partners and 2 associate members. PEVM2021 will cover the main Medicinal Chemistry research topics including cancer, cardiovascular, infectious, metabolic and neurodegenerative diseases.
Visit the official website which contains all the preliminary information about the event.
Early registration will begin on April 20th until May 31st with reduced fees, then higher rates will be applied.