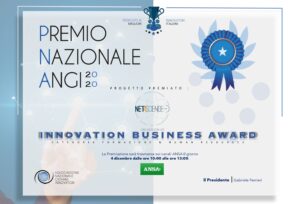 Winners:
Net4Science and the University "Magna Græcia" of Catanzaro
The spin-off Net4Science and the University "Magna Græcia" of Catanzaro are proud to receive the Innovation Business Award for the Training & Human resources category at the Italian Innovation Oscar Ceremony 2020. The National Young Innovators Association (ANGI) is the first national non-profit organization dedicated to the world of innovation. The aim is to reward the best innovators in the country by relating institutions, the world of work and businesses, with the best Italian startups. The ceremony, broadcast on the ANSA website, was moderated by Daniel Della Seta, author and presenter of "L'Italia che va" on Radio Rai, a "cult" broadcast for the stories, realities and experiences of successful entrepreneurs and by Federica De Vizia, reporter by Rai Parliament. There were many testimonies present who brought their spots on the theme of innovation in front of a magnificent "virtual" audience: from representatives the Government, the European Parliament and the European Commission,  as well as investee companies and research bodies. All this, had full media coverage by the main national and international newspapers and radios. The awarded companies are distinguished during the year for commitment, professionalism and talent in the most varied fields of technology and digital. Among these, the committee awarded the Innovation Business Award to Giovambattista De Sarro – Rector of the Magna Græcia University of Catanzaro, to Stefano Alcaro – Full Professor of Medicinal Chemistry and scientific coordinator of the academic spinoff Net4Science, and to Antonio Lupia and Isabella Romeo, two young researchers, for the year 2020.
The research activities of the two young researchers are mainly focused on the application of "multi-targeting" computational techniques aimed at the design of potential drugs and the repositioning of molecules already known both towards multifactorial diseases and resistance problems, such as infectious diseases, including the common enemy – COVID-19.
This is an award that makes both proud and that repays the efforts and investments of almost two years of activity, acknowledging, among other things, the implementation of innovative technology transfer processes, from the academic to the business world.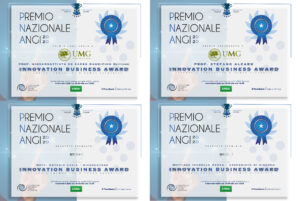 ---

3ª EDIZIONE DEL PREMIO ANGI 2020
OSCAR DELL'INNOVAZIONE POWER BY ANSA
Lo spinoff accademico Net4Science e l'Università Magna Græcia di Catanzaro tra i vincitori.
Premiare i migliori innovatori del paese mettendo in relazione tra loro Istituzioni, mondo del lavoro e delle imprese, con le migliori startup italiane. Questo è il senso della cerimonia di consegna del premio ANGI 2020. L'Associazione Nazionale Giovani Innovatori (ANGI) è la prima organizzazione nazionale no profit interamente dedicata al mondo dell'innovazione, in ognuna delle sue forme. Lo spinoff accademico Net4Science e l'Università Magna Græcia di Catanzaro, sono liete di poter annunciare la vittoria dell'Innovation Business Award per la categoria Formazione & Human resources. La terza edizione del Premio ANGI si è tenuta il 4 dicembre  in versione interamente online sul sito dell'ANSA, per una lunga diretta presentata dai giornalisti Daniel Della Seta, autore e conduttore de L'Italia che va…su Radio Rai trasmissione "cult" per le storie, le realtà e le esperienze degli imprenditori di successo e Federica De Vizia, giornalista e volto televisivo di Rai Parlamento.
L'evento, che è stato trasmesso in format digitale sul sito di ANSA.it, ha visto importanti testimonianze in rappresentanza del Governo, del Parlamento Europeo, della Commissione Europea e dei diversi dicasteri, nonché società partecipate ed enti di ricerca. Inoltre, ha avuto piena copertura a livello mediatico da parte delle principali testate e radio nazionali ed internazionali. In virtù dell'impegno profuso, l'ANGI ha consegnato il premio Innovation Business Award per l'anno 2020 al Magnifico Rettore dell'Università Magna Græcia di Catanzaro, Prof. Giovambattista De Sarro, al Prof. Stefano Alcaro, Ordinario di Chimica Farmaceutica e coordinatore scientifico dello spinoff accademico Net4Science, e ai due giovani ricercatori Dott.ri Antonio Lupia ed Isabella Romeo.
Nel moderno Drug Discovery, il paradigma one-drug multi-target, ovvero l'individuazione di molecole bioattive capaci di interagire su più bersagli terapeutici implicati in malattie complesse, rappresenta uno dei principali focus scientifici nel campo della chimica farmaceutica. Da questo paradigma, Net4Science sta sviluppando la Chemotheca (http://chemotheca.unicz.it/index.php), piattaforma che si configura come strumento di catalogazione di principi attivi, rivolta al comparto Farmaceutico, Agri-Food e Nutraceutico e ben si sposa con quelle che oggi sono le richieste provenienti dal mondo "Green-Chemistry" e "Green-Economy".
Il Dr. Antonio Lupia è un chimico computazionale presso lo spinoff Net4Science. Ha conseguito la laurea in Farmacia ed il Dottorato di Ricerca in Scienze della Vita presso l'Università Magna Græcia di Catanzaro, svolgendo inoltre un periodo all'estero presso l'Istituto Oncologico di Ricerca, in Bellinzona. Per il valido percorso di ricerca, la commissione scientifica lo ha riconosciuto meritevole del prestigioso premio internazionale Paul Ehrlich. La Dr.ssa Isabella Romeo è assegnista di ricerca dell'Università Magna Græcia di Catanzaro, impegnata nella progettazione ed identificazione di agenti polifarmacologici ad azione anti SARS-CoV-2. Laureata in Farmacia, ha conseguito il titolo di Dottore di Ricerca in Scienze della Vita, ricevendo due autorevoli premi internazionali. Diverse esperienze all'estero, presso il dipartimento di chimica dell'Università di Yale e dell'Università autonoma metropolitana, Città del Messico, le hanno conferito la possibilità di fare network con altre realtà accademiche. Le attività di ricerca dei due giovani ricercatori sono principalmente incentrate sull'applicazione di tecniche computazionali "multi-targeting" rivolte alla progettazione di potenziali farmaci ed al riposizionamento di molecole già note sia verso patologie multifattoriali che con problematiche di resistenza, come le malattie infettive, tra cui l'attuale nemico COVID-19.
Le targhe ricevute, sono sinonimo di un concreto riconoscimento nei confronti della realizzazione di innovativi processi di trasferimento tecnologico, dal mondo accademico verso quello imprenditoriale.